From Rocky Mountains to Chernogora. Отзыв: Поход по Карпатам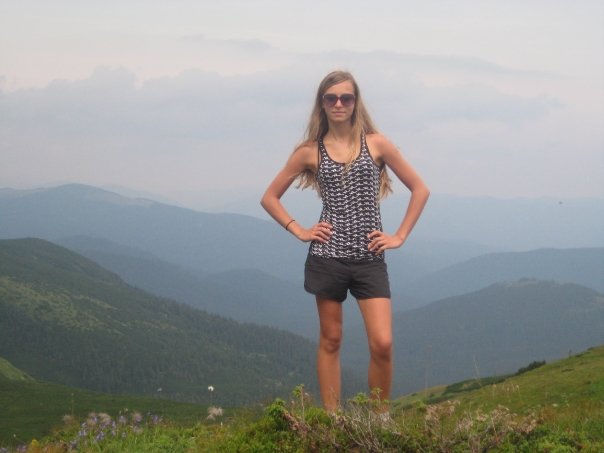 Living in Calgary, Canada, my idea of mountains are was largely formed around high rocky peaks, foreboding glaciers and ice blue lakes. That is why I wasn't sure what to expect when I signed up for the 6 day hike through the Carpathians.
The first thing that caught my attention that was significantly different from the Rocky Mountains in Canada was the dense population. As we were driving to the starting point of the hike, we passed numerous villages cluttered with little wooden huts, intricately decorated churches, herds of livestock on roadside pastures and passing villagers in traditional Ukrainian costumes consisting of richly embroidered blouses and bright colored vests of sheep skin. It was a very beautiful picture, and certainly unlike anything I was used to in Canada, whose peaks seem very hostile in comparison to the Carpathians, which almost seem to breathe life into you. This definitely added a certain cultural layer to the trip, for it enabled me to see how Ukrainian people used to live and how many of them still live. It was very interesting to observe their life as we passed village after village on our way.

We even witnessed a traditional wedding ceremony in the village from where we began our hike. It consisted of a group of young people, all dressed in traditional costume, singing an old Ukrainian wedding song and walking up a mountain path. The ceremony's ancient and sacred customs, preserved so well in this distant village so far away from all civilization, made me for a second feel as though I was almost transported back in time.

On the actual trail, we passed a Kolyba, — a hut — where we met some Hutsuls. These people, as Slavic (our guide) explained, are the people who traditionally lived in the Carpathian Mountains, and some of them still choose to return to the slopes of their ancestors for the summer to look after their sheep and make cheese. Our group got to go inside their little Kolyba to see how they live. I was shocked to see that aside from a shabby table, a bunk bed made from the same wood as the hut itself and the rudimentary, long since outdated equipment used to make the cheese, there was nothing in the hut. From this point of view, it was a truly eye opening experience for me. Being used to all the conveniences of civilization, it was almost surreal to see people living in such conditions. Purchasing some cheese from the Hutsuls, I couldn't help but feel the charm of the moment. After all, I certainly could never do anything like this in the Rocky Mountains.

As for the mountains themselves they are not very tall, the highest peaks barely surpassing 2000 m. They are, however, a lot greener then the Rockies. They are covered with large velvet trees, rich green pastures, vividly colored wildflowers, and blueberry bushes and shrubs. As you climb up the grassy slopes, you can feel the life gushing through the soil. It was very hot and humid (at least in comparison to the dry climate of Calgary) for the first few days of our hike, and this made the hike physically challenging. As we slowly snaked our way up the trails to the top of the mountains, I was silently promising myself that I would never submit myself to this ever again; however, upon reaching the peaks and taking a look around, I knew that all the huffing and puffing was worth it. You look one way and you see Romania, you look another way and you see a beautiful valley with a village buried in its depths. You look to the right and you see beautiful ridges towards which we were heading, you look to the left and you see an ancient Austro-Hungarian fortress overlooking the entire landscape. Breathing in the fresh summer breeze, scented with flower perfumes, you really feel as though the sky is the limit. It is a beautiful feeling and definitely worth the hike.

Perhaps you may find my review somewhat sentimental, but in a way it very well conveys my opinion of the entire experience. Even though it was physically exhausting, it was very mentally and emotionally relaxing. Enjoying the unique nature in the company of interesting and diverse people was one of the highlights of my summer in Ukraine. Everyone on the trip was very friendly, and even though there was definitely a language barrier, the other hikers seemed genuinely interested in me and asked me many questions about Canada and what it's like to live there in the little English that they did know. Talking to them was interesting as they are very different from most people you come across back home.
Slavic and Yura (the other guide) speak very good English, and that made me feel very comfortable. I knew I could depend on them and that they would be able to help me in case I had any problems or questions. They knew the mountains very well and were very experienced hikers, so this was reassuring, especially when it started raining and we needed to change our plans to find adequate shelter from the rain and wind in the forest (which was somewhat out of the way as we were supposed to continue along the ridge.)

I know the two friends I went with did not much enjoy the food, but as far as hiking food goes, there was really nothing much to complain about. What I really liked was that Slavic and Yura prepared the meals for us and the hikers didn't need to worry about setting up the fire, cooking the food and then washing all the charred pots. This added to the relaxing experience since I didn't really have to worry about anything. That said though, a few people still helped because they wanted to. The only things I needed to worry about was just cleaning my own plates and cutlery, so that was nice since in all my previous hiking experiences in Canada, the hikers had to cook every meal themselves. I would recommend bringing some of your own snacks though (such as granola bars and trail mix.) Even though there were ample amounts of snack food for everyone, like halva and chocolate, I sometimes felt hungry during the hike and it would have been nice to just have something I personally always had access too. Also, after 5 days of similar food (which, though it wasn't bad, did become slightly repetitive), I was craving something that my Canadian taste buds were accustomed to. Though, again, I really can't complain much as the food did not take away from the experience in the least.

All in all, I very much enjoyed the experience. Though I hiked before, I was never really into it; however, this trip made me want to go hiking more often. I honestly really regretted not being able to go on another hike with Slavic. If I had more time, I would definitely have gone on another trip and if I come to Ukraine again, I will for sure want to repeat that experience. I recommend this hike to everyone, even those who are not in the best shape. Perhaps this specific hike is more physically demanding than other hikes offered, it is still very manageable for everyone (even kids as young as 10), and it is VERY rewarding.